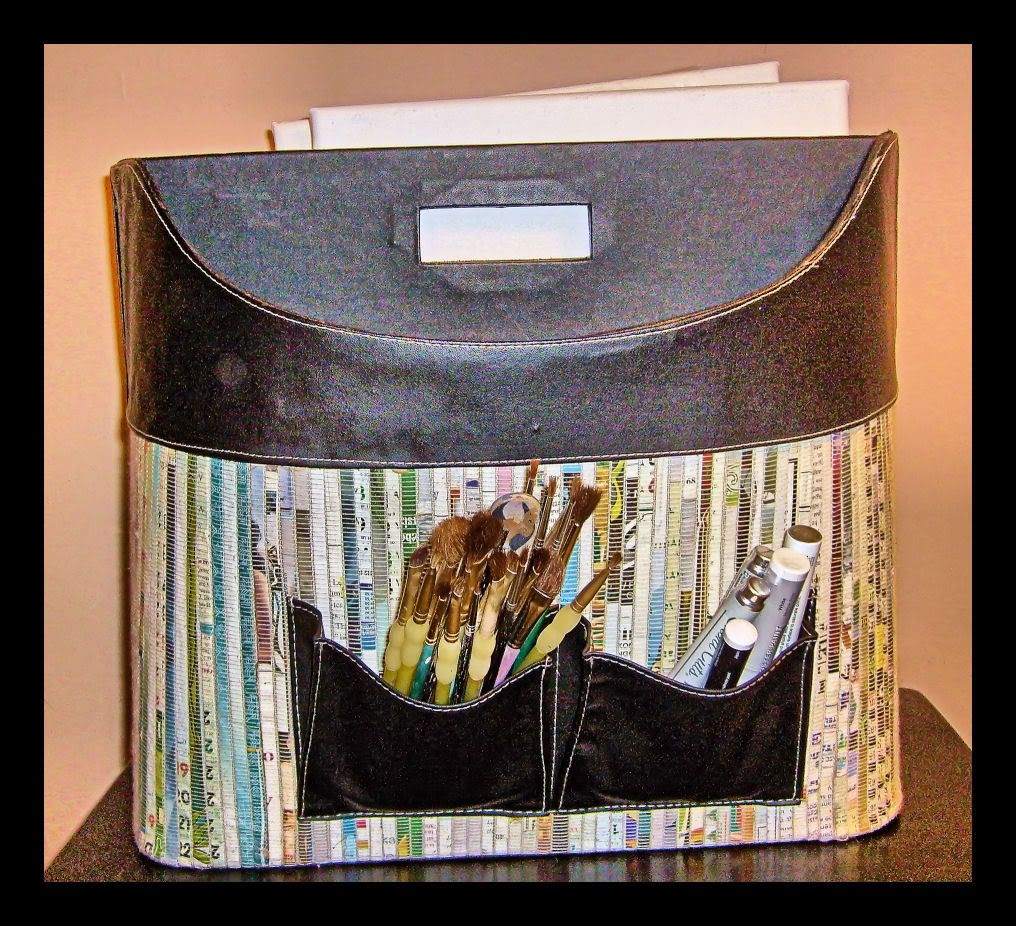 Looky at what Z got me! A paint caddy that holds all my paints, brushes, pens, and even some canvas!! :D
I've learned some lessons while downloading my LJ books; if you use your images from /here/, they won't show up.
Good thing most images were saved elsewhere. Or some of 'em. That's just stupid if you think about it. An LJ interface that doesn't recognize your pics FROM LJ. WTH?
So I've printed off my next to last book, and shall begin the editing process. I've had a blast reading through them. :)
Today's been rough, so this will be brief:
Went to bank and CVS today
Z snuck in and brought me lunch.
Z got me the paint caddy!
Worked my BUTT OFF.
Put in accumulative 30 minutes rowing time in today! Woo! Already seeing a difference in my body.
V.A. trip tomorrow to pick up meds. Ugh.
After rowing, got on the massage mat for about 20 minutes. Mmmmmmmmmm.
Ate some protein, and stopped at that.
Organized paints and schtuffs in caddy.
Am about to fall asleep writing this.
Too much happened today to journal about it. I was, however, bogged down like CRAZY. Passed by a fatal accident on the way home :( Very sad, and unnecessary.
Have I mentioned how much I heart my iPod lately? Well I do :)
Here's hoping work will be as happy as it has been over the past couple of days. I've accomplished a lot in a very short time period, and am working hard to get a major project locked up. We all are. Everyone's double timing it with the coffee and putting in some serious hours. You can see the wear and tear on some of the crew's faces, and I feel bad for them. I'm sure it's the mommy in me.
Alrighty. I feel too good to waste time in here, so...that's that! ;p
NOTE - Suzie Q, I had to get rid of our thread. No biggie, chiquita. :>
Stick a fork in me...I'm done ;-)
It's huge, so hopefully you guys use placeholders :>
iFeel:

busy