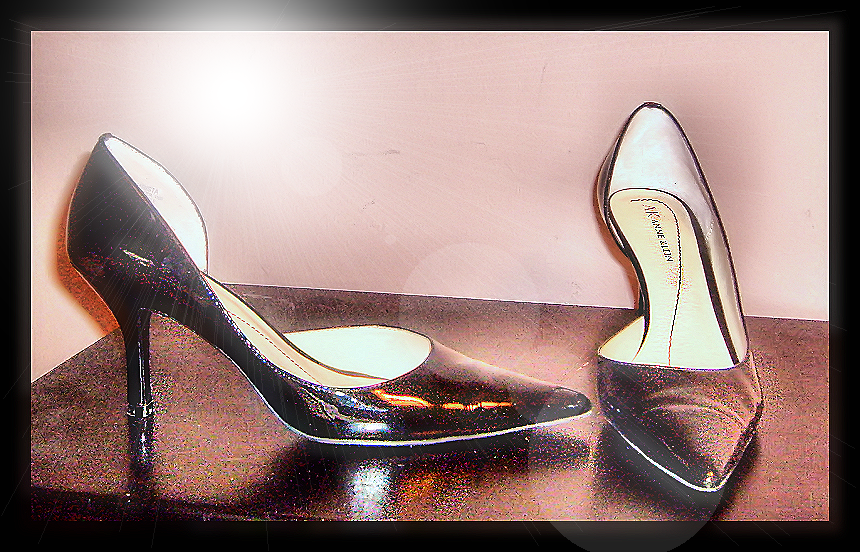 MAN. I kept "pulling" to the right today, and could barely focus on my computer. I thought it would get better as the day progressed, but it did not. Finally caved, and went to seek treatment.
Inner ear infection! Yay!
Malady of the week, I'm thinking. But the shoes are deceptively comfortable, and UBER sessay. I highly recommend 'em to any chica in the market for some nice shoes. :)
Today was unbelievably as busy as yesterday, but none of the stress. I'm coping with this somehow without seeking a therapist. lol :) I overdressed, thinking it was THURSDAY like a dork, but ended up leaving around 2. Am still feeling right-sided, but am taking meds to help with it all. This is a first for me, and it's very strange. I don't like it.
The spawnlette has a series of parties to go to. I'm SO FEARFUL about these, and wonder WHAT HER DAD IS DOING. I want to just enforce the custody thing, but I swore I wouldn't stop her from being where she wanted. If, however, this continues, I'll start playing this by the book. In the long run, I love her -- that's all that counts. She can grow up and still spend quality time with me at the same time. I worry about some of her friends. She's definitely shared way too much info with me, which I've learned I can't trust with her dad. He tells her. *sigh* I now FINALLY know that we'll /never/ co-parent as was ordered by our divorce. It's sad and selfish on his part. Too busy with his own life, lining up ex-wife-
#4
, too busy to really watch the spawn or spend time with her. Her words...not mine.
Enough of that. I'll see how this goes in the next month or so and then make a decision.
So I came home, spent my time on the rowing machine, painted my bedroom door, and put a fresh white coat on a half-painted canvas. The spawn will never finish it, and I'm not letting it go to waste.
More than likely, I'll have to go in to work tomorrow or Sunday. Meh! Even leaving early, I still had overtime (I think). But with all our shut-downs and ordering/manufacturing, my job sees no light at the end of the tunnel. If it wasn't for the gratitude of my guys, I'd throw my hands in the air. And party like I just don't care.
Okay, so we all know I don't party. I'm so dull it hurts.
I just finished with book 5 in my series. All the titles are kinda clever, so perhaps I'll recycle them one day, whilst truly sticking with the titles.
Too tired to really update, so Imma end this joy right now.
I do have some head shots I wanted to put up. Maybe later.
What /not/ to wear when you wake up with vertigo:
iFeel:

exhausted